ENGLISH SYNOPSIS
This documentary takes a close look to early Italian silent cinema and the production of its biggest worldwide success: Cabiria (1914). Two talented men: director Giovanni Pastrone, and director of photography, Segundo de Chomòn, join their forces in what results as the pioneer of the epic movie with spectacular special effects and revolutionary cinematographic techniques – like the use of a moving camera.
In June 1914, Cabiria became the first motion picture ever to be screened on the grounds of the White House. A restored version of Cabiria was screened at Cannes Film Festival in 2006, featured by Martin Scorsese, a notable spokesperson for Pastrone's work as inventor and innovator in the history of cinema.
Cabiria was though only an appetizer for Pastrone and Chomòn, who both exhausted their artistic talent in numerous joint productions following Cabiria, creating immortal classics like the Maciste – one of the oldest recurring characters in cinema – and the archetype of many Rambo's, Conan's and Bud Spencer's to come. Pastrone's and Chomòn's professional marriage was everything but easy, but the couple combined with the alchemy of talents like actress Pina Menichelli and actor Bartolomeo Pagano, managed to give a notable contribution to world cinema. It is especially Segundo de Chomòn's technical skills as director of photography and responsable for special effects that continues to amaze the modern spectator. His work of art "The War and the Dream of Momi" (1917), one of the few contemporary films of World War I, and extensively documented in this documentary, brings in mind Toy Story from the beginning of the previous century.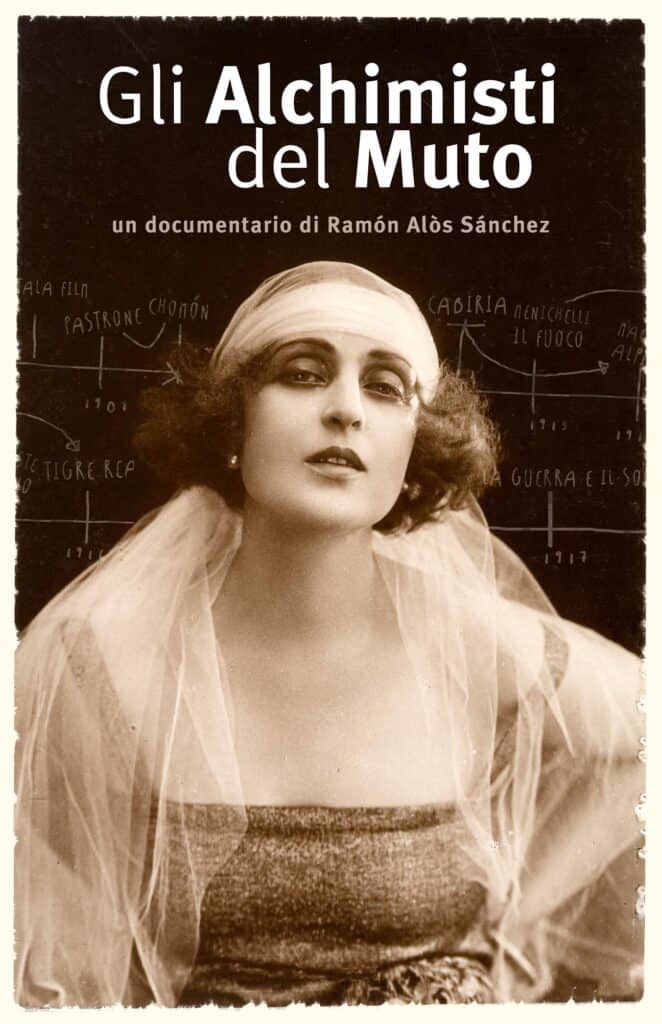 SINOSSI ITALIANA
Gli Alchimisti del muto esplora nel profondo la gloriosa stagione del cinema muto italiano e la storia della produzione del suo film più importante e celebrato: Cabiria (1914). Due uomini di grande talento, il regista Giovanni Pastrone e il direttore della fotografia Segundo de Chomòn, uniscono le forze in ciò che rimane il primo grande film epico di sempre, anche per gli straordinari effetti speciali e le tecniche di ripresa allora rivoluzionarie, come l'uso del movimento di macchina.
Nel giugno del 1914 Cabiria è stato il primo film mai proiettato alla Casa Bianca; la versione restaurata di Cabiria è stata presentata al Festival di Cannes del 2006 da Martin Scorsese, grande promotore del lavoro di Pastrone come uno dei principali inventori e innovatori della storia del cinema.
Pastrone e Chomon, successivamente a Cabiria, hanno congiunto nuovamente i rispettivi talenti in altri classici come "Maciste", film seminale che incarna l'archetipo alla base di film come Conan e Rambo; il rapporto tra Pastrone e Chomon è sempre stato tutt'altro che idilliaco, ma insieme hanno lasciato un segno profondo nella storia del cinema e nella definizione del suo linguaggio. Il dono più grande di Segundo de Chomon era senza dubbio nella capacità di creare effetti speciali ancora oggi impressionanti, come nel film "La guerra e il sogno di Momi" (1917), uno dei pochi film sulla Prima Guerra Mondiale realizzati negli stessi anni in cui svolgeva; in questo film è impossibile non vedere il seme di ciò che sarà Toy Story.